THOR travel agency members earn 12% commission when booking Carey International
Dedicated toll free reservations line for THOR members: +1 800 336 8578 / www.careyconnect.com / GDS or CESDirect: Contact account.services@carey.com to get set up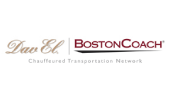 Dav El | BostonCoach: Whether it's transportation for one executive or help in choreographing an event for thousands, Dav El | BostonCoach has everything you need to succeed: convenient, reliable and polished service. With a fleet of more than 25,000 vehicles worldwide and 25 years of know-how, Dav El | BostonCoach will get you where you need to be - on time every time. In fact, almost 60% of Fortune 500 companies have entrusted Dav El | BostonCoach to transport their executives, clients and staff. Why? Because BostonCoach delivers premium transportation at a superior value.
Dav El | BostonCoach offers 12% commission on flat-rate rides
Book via your preferred GDS, at www.BostonCoach.com or call the toll free reservation number +1 800 922 0343 24 hours a day, 7 days a weeks
Be sure to reference account number 95382 to ensure that your commissions are correctly allocated. Regardless of the booking method, this account number must be present in your reservation to receive these rates.

Economy Rent a Car:With over 1000 cars in its fleet, Economy Rent a Car is Costa Rica`s largest car rental company. The combination of high quality service with highly competitive rates sets Economy Rent a Car apart from many of its competitors. Headquartered in Costa Rica for over 28 years, Economy Rent a Car services 12 locations throughout the country as well as over 100 locations in 32 countries around the world, and the growth continues.
THOR member travel advisors receive a 10% discount and earn 10% commission when booking rate code THR on their preferred GDS
Reservations can be made via any major GDS including Amadeus, Apollo, Galileo, Sabre and Worldspan.
Vendor Code: EY
www.economyrentacar.com / 1-877-326-7368
Click here to see all locations

Routes Car Rental: Routes Car Rental is a Canadian based car rental company with locations around the world. The company focuses on the value based customer regardless of the market segment. Value for Routes equates to great prices, great cars and great service. This focus has helped the company grow over 20 plus years from one location in Toronto to 40 plus locations in 11 countries around the world, and that growth continues!